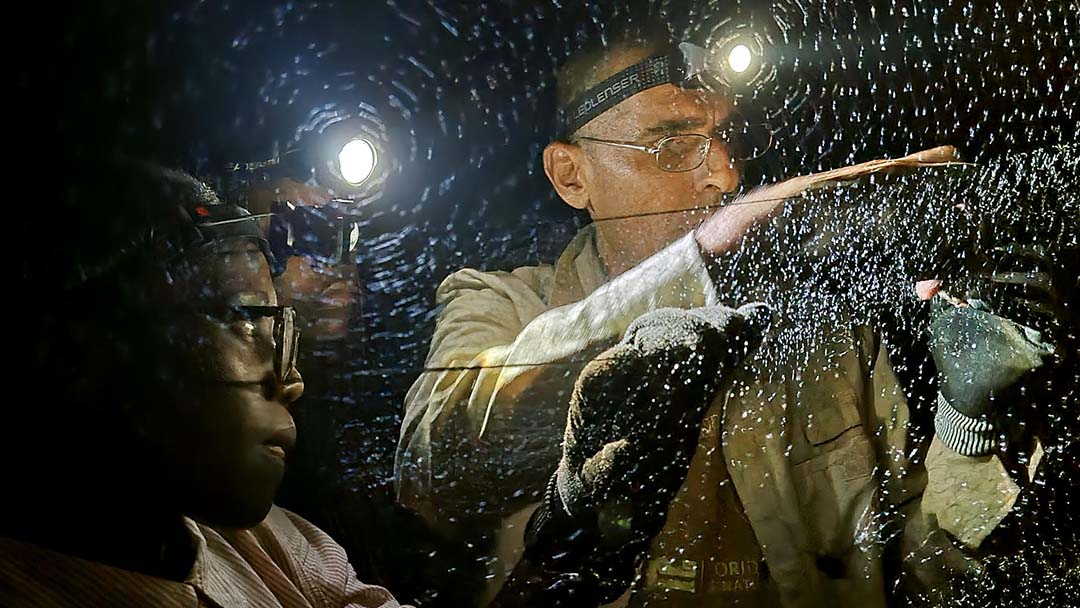 Cesária Huo (left) with Dr. Ara Monadjem (right) – Photo by Piotr Naskrecki
Faculty
The Gorongosa Master's in Conservation Biology faculty consists of a talented, knowledgeable team of professors who generously donate their time to teach intensive courses in the master's curriculum. Faculty members also act as thesis advisors to students and help them in the design and development of their research. We are very grateful for our amazingly dedicated faculty from around the world!
Faculty Members
Dr. Salomão Bandeira
Institutes:  Universidade Eduardo Mondlane, Departamento de Ciências Biológicas
Research:  coastal dunes, environmental management and restoration, mangroves, sea grass
Dr. Laura Barraza
Courses taught:  Research and Thesis I and II; Perspectives and Methods in Conservation Social Science Research
Institution:  Gorongosa National Park
Course taught:  Evolution
Research:  human evolution, mammalian evolution, paleoanthropology, paleoecology
Dr. Luís Comissário
Course taught: Mammal Ecology and Conservation
Institution: Higher Polytechnic Institute of Gaza
Research: ecology, Mangrove ecology, Post-reintroduction monitoring of wildlife, Wildlife management.
Dr. Adrian Garside
Course taught:  Conflict and Conservation
Dr. Teresa Gamito
Courses taught:  Politics of Conservation and Governance; Conservation, Ecotourism, and Rural Development
Institution:  University of Lisbon
Research:  sustainable/strategic territory development
Dr. Cristina Máguas
Dr. Tara Massad
Courses taught:  Introduction to Conservation Biology; Research and Thesis I and II; Methods in Conservation Biology
Institution:  Gorongosa National Park
Research:  chemical ecology, plant-insect interactions; reforestation, tropical forest ecology and diversity
Dr. Ara Monadjem
Course taught:  Ecology and Conservation of Mammals; Methods for Biodiversity Surveys
Institution:  University of Eswatini
Research:
  conservation, ecology, mammalogy, ornithology, systematics, taxonomy
Dr. Piotr Naskrecki
Courses taught:  Systematics and Bioinformatics; Entomology:  Insect Biodiversity, Ecology, and Conservation of African Ecosystems; Methods for Biodiversity Surveys
Institution:  Gorongosa National Park
Research:  biodiversity, conservation, entomology, taxonomy
Bibiana Américo Fernando Nassongole, MSc
Course taught:  Marine Conservation
Institution: Universidade Lúrio, Faculdade de Ciências Naturais
Research:  fisheries management, macroinvertebrates
Dr. Anders Nielsen
Course taught:  Applied Pollination Biology
Research:  agro-ecology, climate change, ecological networks, ecosystem services, insect behavior, plant-pollinator interactions, pesticides, statistical modelling
Dr. Jorge Palmeirim
Course taught:  Ecology and Conservation of Birds
Research:  bats; biodiversity, conservation, ornithology, pasture-woodland, spatial modelling, tropical ecology
Dr. Octavio Paulo
Courses taught:  Conservation Genetics
Research:  bioinformatics, conservation genetics, genomics, phylogenetics
Dr. Rui Rebelo
Dr. Ana Ribeiro
Course taught:  Techniques in Molecular Biology (in collaboration with Ivete Maquia)
Research:
  agrobiotecnology applied to the management and characterization of agro-forestry resources; biodiversity, biology of plant-environment interactions; ethnobotany
Dr. Natasha Ribeiro
Course taught:  Restoration and Ecosystem Services
Institution:  Faculty of Agronomy and Forest Engineering University of Eduardo Mondlane
Research:  conservation and forest restoration, fire ecology, evaluation and environmental impact assessments, forest biomass and carbon sequestration, remote sensing
Dr. Mark-Oliver Rödel
Course taught:  Ecology and Conservation of Amphibians and Reptiles; Methods for Biodiversity Surveys
Institution:  Museum für Naturkunde
Research:
  amphibians; conservation, ecology, environmental change, reptiles, systematics
Dr. Carlos Serra
Course taught: Culture and Economics of Natural Resource Management
Institution: Eduardo Mondlane University
Research: environmental activism, environmental law
Dr. João Neves Silva
Course taught: Statistical Analysis and Experimental Design
Institution: Forest Research Centre, School of Agriculture, University of Lisbon
Research: wildfires, land cover/land use mapping, vegetation monitoring, remote sensing
Dr. Lino Sander de Carvalho
Course taught: Landscape Ecology and Tools for Spatial Analyses
Institution: Universidade Federal do Rio de Janeiro
Research: environmental analyses, geoinformatics, remote sensing, water quality
Dr. Marla Mujovo
Institution: Universidade Zambeze
Scientific Council member
Dr. Sonia Maciel
Institution: Universidade Lúrio
Scientific Council member
Institution: Instituto Superior Politécnico de Manica
Scientific Council member