Human-Wildlife Coexistence
We believe that human-wildlife coexistence is achievable.  Not only does the Rapid Response team swoop in to save lions in the Park who may have been snared, but we also work in human-wildlife coexistence outside the Park; intervening when elephants, buffalo, hyena, lions and other large carnivores stray and enter community areas.  Many times our interventions involve placing ranger teams among communities and ensuring the safety of both people and widlife. Other times, it can mean actively building bomas to secure livestock or erecting bee-hive fences to keep elephants out of crops, or capturing animals to return them to the safety of the Park.  
Our first test came in 2016. While checking out lion GPS-collar data one night, we discovered that the signals from a young male lion's collar indicated that he left the Park and was getting close to a local village. 
We suspected that he had been poached (the river he crossed was flowing high after heavy rains) and sent a Rapid Response team via helicopter out at first light. Once on the ground, our team discovered lions tracks – He we still alive and  hunkered deep in a patch of remaining forest -thicket close to farms and fields. 
 No-one in the community was yet aware the lion was in their midst, and we immediately secured people in the area, and deployed a team of scouts to keep people secure and prevent the lion from being harmed throughout the remaining day and night.  
Suspecting he would cross back overnight we monitored his movements, and in fact at 2am the following day he did cross back in to the Park. Again, over a rapidly flowing river. This was the first- confirmed report of a lion we track in the Park leaving the Park and interacting with communities. 
Rapid-response helped ensure no conflict between people and the lion, and we succeeded in building trust by demonstrating to the community that conflict could be avoided. Since then, we have intervened in several potentially volatile situations, and it is becoming clear that the Rapid Response unit not only saves lions lives, but is also an effective component in promoting sustainable human-wildlife coexistence. 
In another important case, communities reported losing livestock to "lions" in the night that were killing goats every other night. On further investigation, we discovered it was in fact hyena and not lion.  Our teams got to work helping design and build bomas, fortified wooden structures, that would hold and secure goats at night and prevent further hyena predation.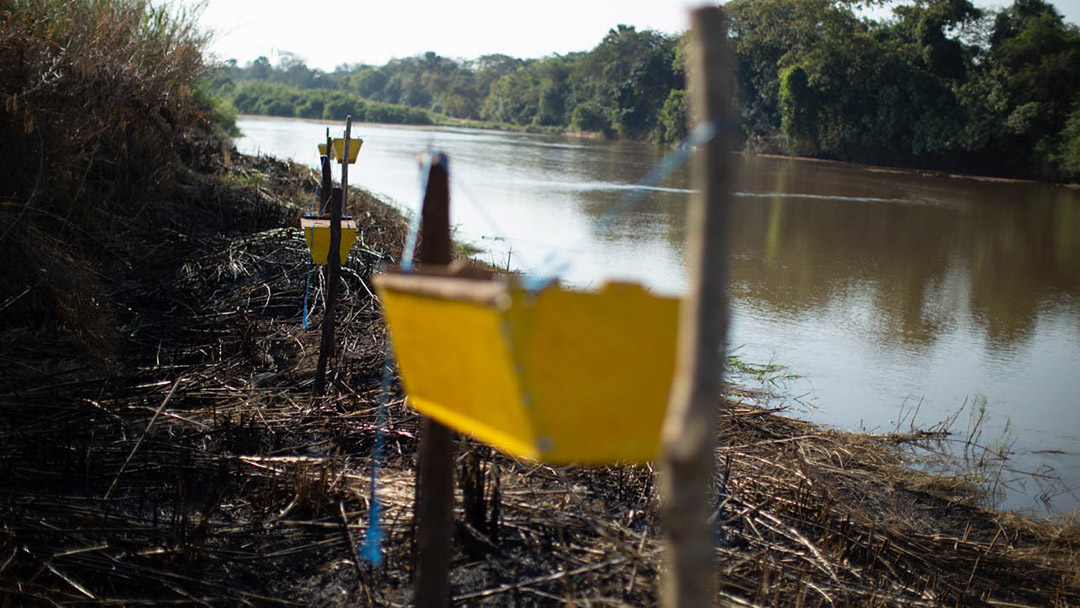 Implementation Strategies
Implementation of co-existence measures includes an array of interventions such as bee-hive fences to deter elephants from crop-fields, or predator-proof bomas to prevent loss of goats and other live-stock to lions and hyaena. Community meetings and ceremonies with traditional leaders are the keystone for this program, towards building understanding, open dialogue and trust with communities as legitimate partners in conservation.  
Our Ecosystem Integrity and Human-Wildlife Coexistence teams work very closely with teams from the Department of Sustainable Development, Scientific Services and Human Development.
Our Mission
Advance an integrated multi-partner approach to conservation and to people-centred development. The Gorongosa Project protects the Park's biodiversity and ecosystem services and unlocks its economic potential for the community inhabitants of the Gorongosa Buffer Zone, Sofala Province, Mozambique and further afield.
Our Vision
A thriving, biodiversity-rich, Greater Gorongosa conservation landscape, which supports Sofala Province as an engine for resilient and sustainable development enabling nature experiences and wellbeing for its people, enriching all of Mozambique and the world.
A Park for Peace
On 1 August, 2019 a historic ceremony was held in Gorongosa to celebrate the Cessation of Hostilities Accord between the leaders of the Government of Mozambique and the opposition Renamo Party. The accord established Gorongosa National Park (GNP) as a 'Park for Peace', delivering human development to the communities that share the greater landscape.